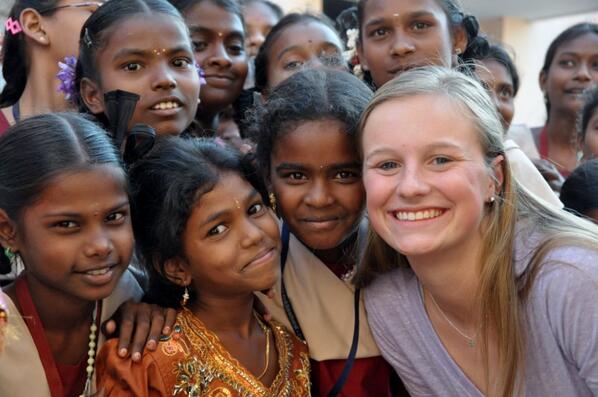 I realize its not even February but when I go to the grocery story they already have the chocolate out and the Valentines Day stuff on display so why not share some love?
Love is best when its shared, that's its nature and I think the photograph in this post reveals love best.  Love to show up, to leave a comfortable No. Cal lifestyle and travel to the other side of the world so you can be part of something bigger than yourself.  Claire did just that; she showed up.
She demonstrated in each village she visited that she cared enough for them, complete strangers, to do something.  She helped me bring them clean water and she did it with others; she made a difference.
I would get in trouble if I didn't mention Justin.  
Justin is a classmate of Claire and the two of them decided to make a difference in rural India and partner with Wells for Life so that clean water could become a reality in as many places as possible.  They did just that; worked and worked, asked for donations, tried a variety of different things so that water could become a reality in rural India.  Then they each brought one of their parents with them so that together they could see the impact and share the love.
Love showed up in South India each and every day we were there.
In 2013 we brought water to 68 new places and Claire and Justin were responsible for 3 of these.  As I reflect on last year's accomplishment which was an all time high for us, and I look at what 2014 holds, I can't help but wonder how many places we'll be able to touch with clean water and with love.
If you want to make a difference and share the love and the dollars so that we can touch more lives then Click the GIVE button at the top of this page and as you give remember to smile because you're changing lives!